Josephine Baker – Entertainer, War Hero and Civil Rights Activist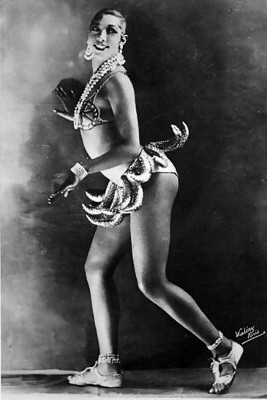 Josephine Baker was an American-born cabaret performer who rose to stardom in the 1920s as a result of her unique talent for captivating an audience, however, she was so much more than an entertainer. Her strong personality, integrity and bravery in the face of adversity helped her gain honours for her part in the French Resistance movement during World War Two, as well as leading to her becoming an instrumental figure in the civil rights movement in America.

The Rise of Josephine Baker – A Star is Born
Born in 1906 in St. Louis, Missouri, Freda Josephine Baker came from a very poor background and had to work from a young age to help support her family. By the time she was thirteen years old, she was already performing on stage and when she got her big chance as a chorus girl a year later, she was a big hit with audiences.
At the age of nineteen, Baker was packing out venues in Paris, France, the country that would become her adopted home. In her routines, she wore bold, skimpy outfits such as a feathered skirt and her most famous costume which was made out of artificial bananas (pictured above) and became emblematic of the roaring twenties.
She added comedic touches to her performances such as bowing her legs, crossing her eyes and scatting to the music, which combined with her immense talent for singing and dancing made her an overnight sensation. She also often appeared on stage with her pet cheetah, Chiquita, who would sometimes escape to the orchestra pit and frighten the musicians there, much to the delight of audiences.
By 1927 she was the highest-paid entertainer in Europe and one of the most photographed women in the world. She owned her own nightclubs and became the first Black woman to star in a motion picture, the 1927 silent film Siren of the Tropics. By the late twenties, she was one of Europe's most recognisable and well-loved personalities. Ernest Hemingway described her as "the most sensational woman anyone ever saw" and Picasso painted her to capture her charm and beauty.
The influential poet, playwright, novelist, designer, filmmaker, visual artist and critic Jean Cocteau befriended Baker and helped her to become an international star and in 1934 she was featured in La Créole, an operetta by the nineteenth-century composer Jacques Offenbach.
Josephine Baker and the French War Effort
During the Second World War, Baker used her considerable talents to help the war efforts of her adopted country. Not only did she entertain the troops, but she also aided the French Resistance by passing along secret messages written on her music sheets. She also spent time working as a nurse for the Red Cross and was a sub-lieutenant in the Women's Auxiliary Air Force.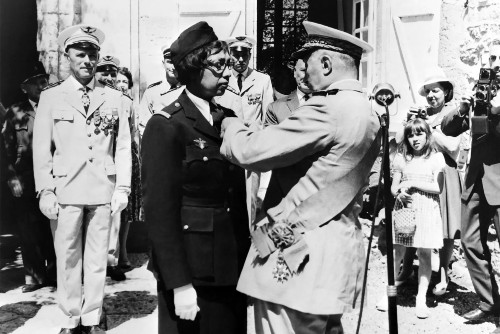 In 1961, the French government awarded her with the Medal of the Resistance with Rosette and named her a Chevalier of the Legion of Honour (pictured above) for her contribution to the war effort. When she died in 1975 aged sixty-eight, she became the first American woman in France to receive a funeral with military honours complete with a twenty-one gun salute; the ceremony was attended by over twenty thousand of her adoring fans.
Josephine Baker and the Civil Rights Movement
In the 1950s and 60s, Josephine spent some time in America and became a staunch activist in the civil rights movement. She refused to perform in venues that practised segregation, sometimes turning down large amounts of money in order to stick to her principles. When she was refused service in the Stork Club in New York because of the colour of her skin, it led to a media battle with pro-segregation columnist Walter Winchell in which she showed despite the inherent dangers, she was not afraid to speak her mind publicly.
Even though American audiences largely rejected her because she refused to adhere to the normal stereotypes expected of Black entertainers during the period, so important was her contribution to the civil rights movement that the National Association for the Advancement of Colored People (NAACP) honoured her by naming May 20th as Josephine Baker Day.
Her belief in equality and integration was her guiding principle throughout her life and was reflected in her own family. She adopted twelve children from various nationalities and often referred to her family as the Rainbow Tribe. By practising what she preached, she aimed to prove to the world that children from different races and religions could be brothers and sisters, figurative and literally.
The March on Washington.
In 1963, she participated in the March on Washington (pictured below), where Martin Luther King gave his famous, I Have a Dream speech. She was the only woman to speak to the thousands of people who turned up that day, telling the audience they were like "Salt and pepper. Just what it should be." She also stated in her twenty-minute talk:
I have walked into the palaces of kings and queens and into the houses of presidents, and much more. But I could not walk into a hotel in America and get a cup of coffee, and that made me mad. And when I get mad, you know that I open my big mouth. And then look out, 'cause when Josephine opens her mouth, they hear it all over the world!
After the assassination of Martin Luther King in 1968, Baker was offered the opportunity to become an unofficial leader of the movement by King's widow, Coretta Scott King. However, due to fears for the safety of her family, she declined the offer.
Josephine Baker is a clear example of a person who lived life to the fullest, despite being born into a poor family and starting life as a Black female in America at a time when these factors were major disadvantages. Whether she was entertaining, helping the war effort or trying to bring about equal rights, she did everything with a sense of nobility, grace, style and good humour and should be remembered as the innovator and the hero that she was.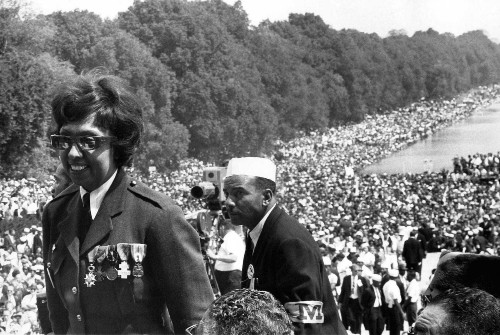 To get history articles like this on your site, please feel free to contact me for a consultation.
References:
Dalencour, Y. [Internet]. 2016.
Favorite Josephine Baker Quotes and the Danse Sauvage. Available from:
Josephine Baker. [Internet]. 2003. The Victoria & Albert Museum. Available from: http://www.vam.ac.uk/content/articles/j/josephine-baker/ [Accessed May 15, 2014].
Williamson, H. [Internet]. 2013. What Josephine Baker Teaches Us about Women's Enduring Legacy Within the Civil Rights Movement. Think Progress. Available from: http://thinkprogress.org/health/2013/08/28/2543871/josephine-baker-women-civil-rights [Accessed May 15, 2014].
Josephine Baker Quote
Surely the day will come when colour means nothing more than the skin tone, when religion is seen uniquely as a way to speak one's soul, when birth places have the weight of a throw of the dice and all men are born free; when understanding breeds love and brotherhood.
~ Josephine Baker ~