Medieval Medicine and Healing Practices in Europe
When the Roman Empire fell in the fifth century CE, Europe moved into what became known as the Early Medieval Period or the
Dark Ages
, which lasted approximately until the end of the tenth century CE. Much of the knowledge gained by earlier civilisations was lost leaving medieval medicine and healing practices in Europe largely reliant on superstition and speculation.
During this time, Europe was run by local warlords who ruled over small fiefdoms. With such small estates, infrastructures were basic so universities and public health systems were rare. Although a corpus of knowledge did grow over the period, travelling was dangerous so any knowledge that was learned tended to spread at a very slow rate.
The vast amount of war and social unrest also contributed to the slow progress of medicine, as did the influence of the church which forbade human dissection, encouraged people to look to prayer for their healing and agreed blindly with much of what was said in the writings of Galen, a second-century Roman doctor.
That said, it was largely on the battlefield that butcher surgeons learned their trade, it was the Church that first brought about hospitals to care for the sick or dying and Galen's teachings were exceptional for their time, (though not always accurate).
By the Later Mediaeval Period, also known as the High Middle Ages (c. the eleventh to the end of the fourteenth centuries), kingdoms had grown and ruling elites had begun to regain a great deal of the luxuries and refined lifestyles that make up higher civilisation. Universities and schools began to appear and travel became a lot safer making the sharing of knowledge between territories easier, though still very limited.
Beliefs About Medicine and Healing in the Medieval Period
The Four Humours – One of the prevailing theories about disease in medieval medicine was that of the four humours. The idea was that the body had four bodily fluids; yellow bile, black bile, blood and phlegm, and these were used to analyse the state of a person's health.
The belief was that an imbalance in these bodily fluids was the cause of many health problems so treatment was often geared towards addressing this. This could be done in various ways such as by inducing vomiting or by bleeding a patient by applying leeches to the skin, neither of which had too much success.
Disease and Smell
– Another prevalent belief was that disease was carried by smell, so avoiding anything with a bad smell such as rotting flesh was seen as prudent. To protect themselves in times of epidemics, medieval doctors often carried with them something with a nice smell such as posies as they
believed it would counteract the bad smell and prevent them from catching the disease themselves.
Although the reasoning behind this was incorrect, it probably saw a good deal of success as diseased things do often actually smell bad.
Astrology
–
Astrology and the stars also played a part in healing practices, for example during the first bubonic plague epidemic (1348 – 1350). Pope Clement VI's doctor, Guy de Chauliac, believed it to be caused by a conjunction of Saturn, Mars and Jupiter, however, he also correctly deduced that a poor diet would make people more susceptible to disease.
Charts like the one pictured above were used to determine what treatment a patient should
receive
after the healer took into account the
position
of the stars at the time of the
diagnosis
. This belief
was
so
prevalent
that by the sixteenth century, doctors were
legally
required to check a patient's
horoscope
in some parts of Europe.
Divine Intervention
–
Despite the appearance of a few universities in Europe, most of the learning that was happening was in the monasteries. The monks believed in the need for divine intervention for healing the sick as they tended to see it as a punishment from God or even demonic possession. During the Middle Ages, people were extremely superstitious and most would follow the authority of the Church without question. As a result, many people relied solely on faith and prayer to cure themselves and their loved ones when illness struck.
Hospitals
–
Hospitals began to appear in the monasteries to help the sick and dying. The earliest was in the monastery of St Gall, built-in 820 CE and known to be able to hold six people and to have its own garden for growing herbal medicine. The idea grew over time and by the twelfth century, many larger hospitals were being built across Europe, mostly by Church institutions.
Medieval Doctors
While Europe had lost most medical knowledge that had been passed down by ancient civilisations, the Muslim world had managed to retain much of it and was far more advanced than their counterparts in the West. This benefited European doctors because ancient books were occasionally brought to the West, for example by scholars fleeing from Bagdad when it was destroyed by the Mongols.
Throughout the later medieval period, the Crusades also helped as they brought Europeans into some contact with Muslim doctors. Because medieval doctors were so superstitious, it was often the case that the sick people they treated got worse. The knowledge they retained from the ancient world was scant and what they did have they followed blindly.
Very few schools dedicated solely to the study of medicine were set up in the period and only one, Padua University, made it mandatory that trainee doctors actually visited sick people. What's more, during a really bad epidemic such as the plague, doctors would often refuse to visit those with the disease for fear of catching it themselves.
The fourteenth-century poet Petrarch said in a letter to Pope Clement VI (both pictured above along with the Pope's doctor
Guy de Chauliac)
:
I know that your bedside is besieged by doctors, and of course this fills me with fear. As Pliny said, in order to gain fame they buy it with our lives. They learn their art at our cost, and even our death brings them experience; only a doctor can kill without punishment. Remember what it says on the gravestones, 'I died of too many doctors.'
L

ocal Wise Women and Witchcraft

Most people could not afford to pay for a doctor so a viable alternative would be to go and see a local wise woman (or sometimes a man) who was skilled in the prescribing of herbal medicine. Knowledge would be handed down from one generation to the next in what herbs cured what illness and they would also act as midwives to their community. Healing was often associated with magic and by the latter part of the Middle Ages in what was a dark time in women's history, local wise women and healers were being associated with the devil and many were put to death for witchcraft.
A Medieval History of Surgery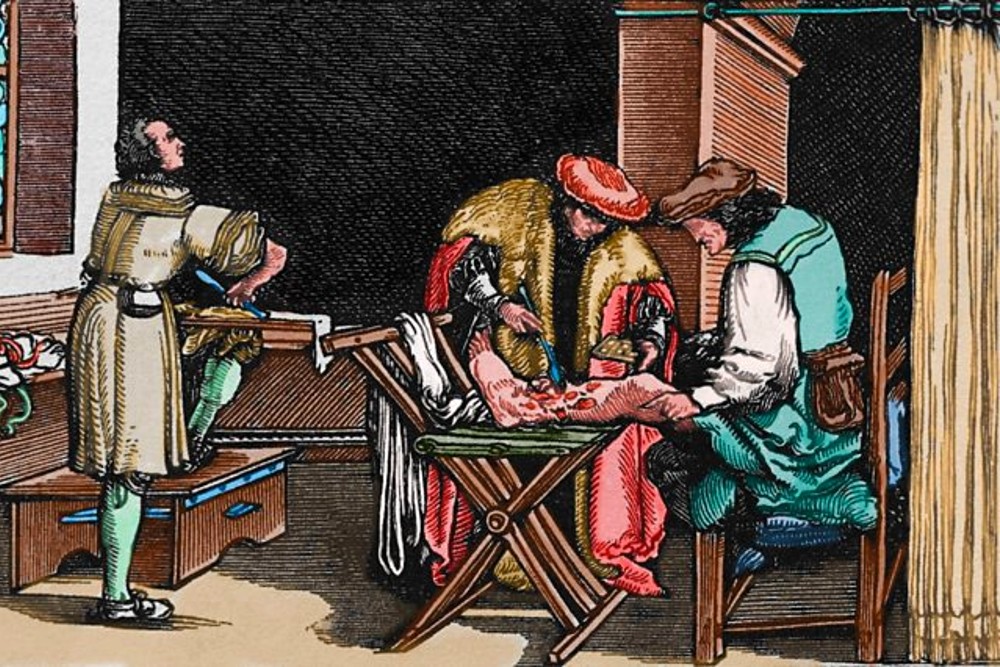 The history of surgery in the Middle Ages is a surprisingly progressive one, thanks largely to the experience gained by the butcher surgeons on the battlefield. Herbal medicines such as mandrake root, hemlock and opium were used as anaesthetics and wine was used as an antiseptic. In the thirteenth century, the Italian surgeon Theodoric of Lucca wrote, "Every day we see new instruments and new methods [of removing arrows from wounded soldiers] being invented by clever and ingenious surgeons."
One man in particular stands out in the field of surgery in the medieval period, William of Saliceto, who lived in the thirteenth century and helped set up a school dedicated to surgery. He was one of the first to realise that pus on a wound was a bad thing, he recommended using a knife to perform surgery instead of the cautery and he was years ahead in his techniques, even managing to stitch together severed nerves.
A skilled medieval surgeon is known to have been able to perform operations on many external problems such as facial ulcers, removal of teeth and eye cataracts and also some internal ones such as the removal of bladder stones.
However, despite advancements, the history of surgery is still barbaric compared with modern standards and they lost a lot of patients due to infection as they did not realise that an unclean environment would cause problems.
Though they had a certain level of skill, butcher surgeons were still bound by Christian belief. One common technique that was used by them to cure epilepsy was known as trephining, which involved removing a piece of the skull in order to allow a demon to escape through the hole it created. Muslim doctor Usama ibn Munqidh wrote in around 1175:
They brought to me a knight with a sore on his leg and a feeble-minded woman. To the knight, I applied a small poultice and to the woman, I put on a diet to turn her humour wet. Then a French doctor came and said, 'this man knows nothing about treating them.' He then said, 'Bring me a sharp axe.'

Then the doctor laid the leg of the knight on a block of wood and told a man to cut off the leg with the axe, upon which the marrow flowed out and the patient died on the spot.
He then examined the woman and said, 'There is a devil in her head.' He therefore took a razor, made a deep cross-shaped cut on her head, peeled away the skin until the bone of the skull was exposed and rubbed it with salt. The woman also died instantly.
Throughout the medieval period, it's easy to see medicine and healing as an unsophisticated, barbaric affair as much of what was practised in Europe was lacking compared with earlier periods and contemporary places like the Muslim world. It should be remembered however that the people who took it upon themselves to help other people recover from injury and disease did the best they could with the information they had available to them and ultimately, they paved the way to the many wonders of modern medicine that we benefit from today.
To get history articles like this on your site, please feel free to contact me for a consultation.
References:
A History of Western Medicine and Surgery. [Internet]. 2012. LSU Health Sciences Centre Medical Library. Available from: http://lib-sh.lsuhsc.edu/fammed/grounds/history.html [Accessed 24 Jan, 2012].
Medieval and Renaissance Medicine. [Internet]. 2012. BBC. Available from: http://www.bbc.co.uk/schools/gcsebitesize/history/shp/middleages/ [Accessed 23 Jan, 2012].
What Kind of Medicines did People use in the Middle Ages? [Internet]. 2012. University of Aberdeen. Available from: http://www.abdn.ac.uk/english/lion/medicine.shtml [Accessed 23 Jan, 2012]
Medical History Quote
Doctors put drugs of which they know little into bodies of which they know less for diseases of which they know nothing at all.
~ Voltaire ~